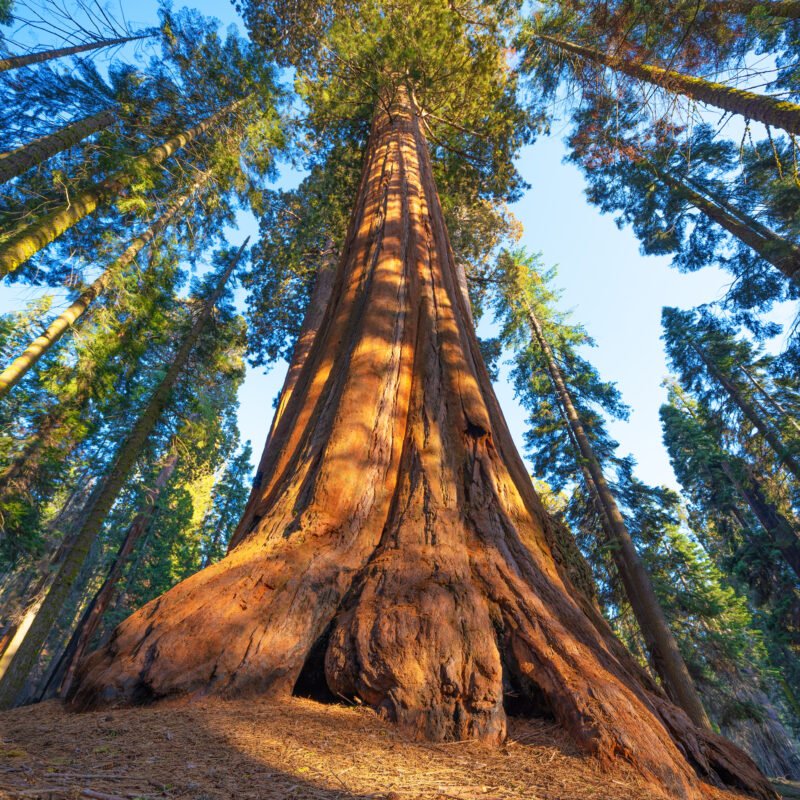 The giant sequoia "General Sherman" (Sequoiadendron giganteum) grows within the Giant Forest in Sequoia National Park, California. The tree is named in honour of the American Civil War general, William Tecumseh Sherman, though a utopian socialist community renamed it after Karl Marx for a short period in the late 19th century!
It is estimated to be around 2,200 to 2,700 years old and has a trunk diameter of 7.7 metres. It has an impressive height, soaring 84 metres into the blue Sierra sky — and it's still growing. However its place in the history books (and blogs) is due to its impressive girth and overall mass. By sheer volume it is the largest of any known single stem tree on earth.
The shallow but wide-spread roots of sequoias entangle with others nearby, creating a mesh that helps all of the giant trees maintain stability and balance. The sap of these trees contains tannic acid that protects against parasites and fungal rot.
Interestingly, back in 2021 park rangers wrapped the General Sherman and other nearby trees with a type of protective aluminium foil, to prevent damage from wildfires burning downslope from the forest.
So if you're travelling to the west of USA, this leviathan is a great natural icon to add to your bucket list!
Call Branching Out Tree Care for all your Mandurah tree lopping needs.