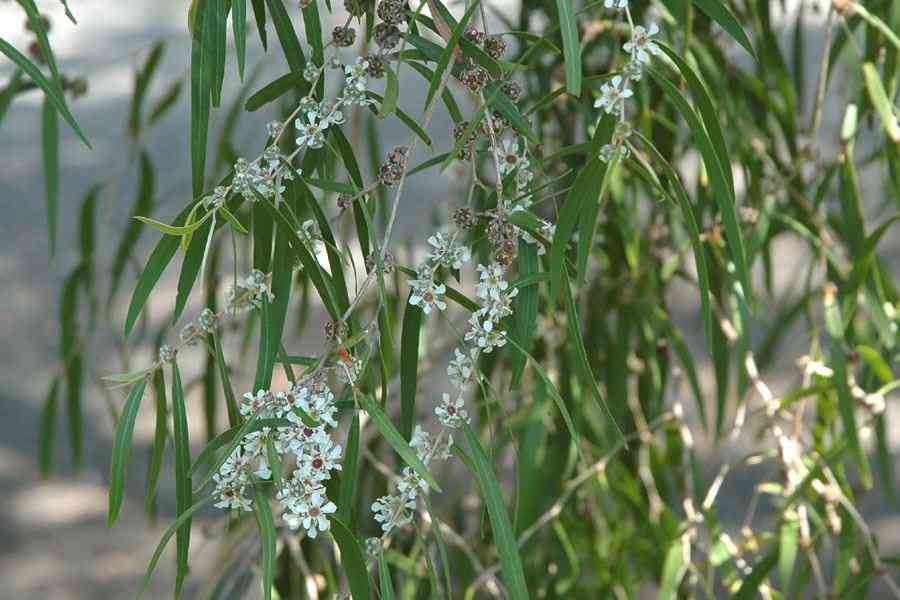 In this blog series we look at the indigenous trees of the Peel/Bindjareb region. This month we profile Agonis flexuosa, which has varied common names including Weeping Peppermint and Willow Myrtle. The tree is native to the south-west of WA and widely planted - most Western Australians have a "peppy" tree either in their garden or along their street.
The Weeping Peppermint is an attractive medium-sized tree with a pendulous habit. It looks remarkably like a weeping willow from a distance. Mature trees develop a characteristic large, gnarled trunk, and they are a fantastic shade tree for medium to large gardens. Clusters of small white flowers are borne axilliary (between the leaves) in spring and summer, smelling of honey and attracting many beneficial insects. The blossoms are especially loved by bees, and a great place to observe our many native bee species.
Mature specimens of this species can be observed in many neighbourhoods around Perth, Rockingham and Mandurah, in particular the suburb of Peppermint Grove which takes its name from the tree. Cultivars have also been bred with different color foliage, such as "Lemon & Lime" and "Burgundy". Look out for them at your local nursery.

The Noongar name for the tree is "Wonnil" and in the past there were varied ceremonial and medicinal uses for the leaves, twigs and sap, such as easing congestion and in antiseptic washes and poultices.
If you have a weeping peppermint that is perhaps getting a little too large, or encroaching on power lines, call one of the qualified arborists at Branching Out Tree Care. Our professional pruning techniques will ensure your tree stays healthy and remains looking attractive now and into the future.